This picture literally cries out for a caption contest.
Can this man go anywhere without a TelePrompTer?
What's your best caption for this photo?
See the changes in technology over 30 years.
Read more
I resurrected the Photo of the Day for this instant classic:
It's been a while, but some photos deserve a "Caption of the Day" post. What would be your caption to this beauty?
It's been a while since we've run the Photo of the Day. What's your caption for this one?
(Thanks Matt Drudge for the pic)
Let's see how many newsworthy items you can combine with this photo: (All references between BP, the World Cup, and Barack Obama are purely intentional)
> "Soccer balls and oil spills: Two things the Brits can't contain."
> "We know who's butt is going to get kicked tonight."
> "BP's environmental safety plan – as trustworthy as a British goalkeeper."
> "Hey ma, look – no hands."
> "I wish I could get the first half of this game back."
> What's big, green, and really makes a mess of things?
a) BP
b) Incredible Hulk reruns on TVLand
c) British keepers
Does this portend the proverbial sinking ship?
I just couldn't resist resurrecting a feature from the good ol' days. (Thanks, Neil, for the tip.)
Did no one in the White House PR or political offices stop to think how completely ridiculous this would look? Can you imagine how the dems and the MSM would have roasted GWB if he'd shown up to speak at an elementary school with a teleprompter? I've used one myself and I understand sometimes they are absolutely necessary, and perhaps today's speech is important enough to merit its use. But why then give the speech at an elementary school?
Let the captions fly. Best caption by this time tomorrow gets a free book of their choice.
It's apparently a slow news day. So have fun with this POD. What's he thinking?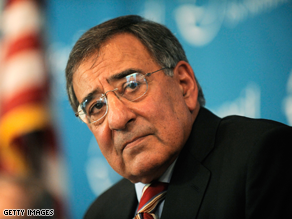 Photo of the Day makes a one-time return engagement. These photos are too good not to comment on.
From World Net Daily:
On his 100th day in office, President Obama will be "crowned" in messianic imagery at New York City's Union Square.

Artist Michael D'Antuono's painting "The Truth" – featuring Obama with his arms outstretched and wearing a crown of thorns upon his head – will be unveiled on April 29 at the Square's South Plaza.

According to a statement released about the portrait, "The 30″ x 54″ acrylic painting on canvas depicts President Obama appearing much like Jesus Christ on the Cross: atop his head, a crown of thorns; behind him, the dark veil being lifted (or lowered) on the Presidential Seal. But is he revealing or concealing, and is he being crucified or glorified?"
Apparently Mr. D'Antuono missed this or maybe he was deceived when Obama said:
"A light will shine down from somewhere. It will light upon you. You will experience an epiphany and you will say to yourself, 'I have to vote for Barack'."
Either way, this imagery frightening and sacrilegious to the highest degree. If Obama were a true believer, don't you think he would ask for this painting not to be displayed?
Update: Per WND, Michael D'Antuono has canceled the display of this painting due to "overwhelming public outrage."