I don't normally agree Senator Raspy Throat, but his blistering interview with the New York Observer had me laughing, nodding, and struggling for air. It's all worth a read, but this tidbit on Johnny Edwards is the cherry:
Mr. Biden seemed to reserve a special scorn for Mr. Edwards, who suffered from a perceived lack of depth in foreign policy in the Presidential election of 2004.

"I don't think John Edwards knows what the heck he is talking about," Mr. Biden said, when asked about Mr. Edwards' advocacy of the immediate withdrawal of about 40,000 American troops from Iraq.

"John Edwards wants you and all the Democrats to think, 'I want us out of there,' but when you come back and you say, 'O.K., John'"—here, the word "John" became an accusatory, mocking refrain—"'what about the chaos that will ensue? Do we have any interest, John, left in the region?' Well, John will have to answer yes or no. If he says yes, what are they? What are those interests, John? How do you protect those interests, John, if you are completely withdrawn? Are you withdrawn from the region, John? Are you withdrawn from Iraq, John? In what period? So all this stuff is like so much Fluffernutter out there. So for me, what I think you have to do is have a strategic notion. And they may have it—they are just smart enough not to enunciate it."
Yeah, baby! Maybe Biden has more of a shot than we thought. He's obviously as an astute political analyst.
This week yet another Republican hat – that of former Gov. Mike Huckabee of Arkansas – was tossed into the Republican ring.
The Governor is currently making the requisite media rounds, but after suffering a painful defeat in the midterm elections last fall, Republicans are unlikely to support a candidate who cheerfully raises taxes and then blames it on his constituents – in effect, he claims he raised taxes because the citizens of Arkansas liked them. He raised 'em; and worse – he won't promise not to do it again.
It is unlikely he will garner great support from the party itself, after all, a great part of the GOP defeat was that voters were tired of tax and spend Republicans.
In 1992, conventional wisdom had President Bush One with the general election in the bag. The Democrats ran a number of primary candidates who were generally unknown. So being a governor from Arkansas (a state that the Dumb Decided in the rest of the country barely heard of) was a plus, not a minus.
Gov. Bill Clinton had nothing to lose in 1992, and everything to gain. Then a number of odd things happened. With Republican anti-Bush votes going to Ross Perot, a great Saxophone performance by Clinton on The Arsenio Hall Show, and a bad performance in the grocery store by incumbent Bush who didn't know how much the milk cost, the relatively unknown Governor of Arkansas won the White House.
But a candidate in this election — with no incumbent and a lot of Big Name People that even the Dumb Decided know — cannot successfully jump out of the dark of Arkansas and yell "boo."
McCain is looking physically frail and is so wrapped around the troop surge (that most of America doesn't like) that it makes him weak and wobbly.
Rudy Guiliani is, in my opinion, a true American hero. But he should take the Muhammed Ali option — go out the champ. He is well loved (and deservedly so) as America's mayor and should not muddle that pure legacy with yucky presidential politics. But he does love cameras and they love him — and he is enjoying the Will He or Won't He? — but the more he wiggles and waits, the less he will be taken seriously. My advice — go out on top, Rudy — go out on top.
Rep. Duncan Hunter (R-CA) could be a surprise horse. Although he is too much of a protectionist for some, his "hawk and fence" approach to national security plays well. He had some great interviews already last weekend, and could easily become chief Republican spoiler.
Hillary is still on top and should be happy that her "Michael Dukakis in a Tank" or "John Kerry In A Big Blue Condom" moment came early in her campaign. Hopefully for her, Democrats won't remember her rendition of the Star "Mangled" Banner.
As for the rest of the Democrat field, with the exception of John Edwards who is running his everyman campaign from a 28,000 square foot house, they are all running for Vice President. John Edwards has no great strategy, no foreign policy credentials, he wasted his sympathy card when running for Veep, and is a wholly owned subsidiary of a union base that has shrunk to a shadow of its former self at less than 12% of the workforce. What's his slogan going to be — YES Edwards, NO Wal-Mart? He's sliding faster than a fat man in a raincoat down an icy hill.
So far, it seems its Hillary's and Mitt's race(s) to lose. Today. Tomorrow … ?
On a serious note, a sad goodbye to America's true Derby champ, Barbaro. We hoped that he could get past one bad leg, but two bad legs was just too much.
Political lesson, that.
Biden to formalize presidential bid
Hillary Leads in New Hampshire
Ohioans favor Clinton, Guiliani for president
Hillary Clinton and the Politics of Resenting History
President Bush was unqualified to run the country in 2000, just as Obama is now
GOP Right Sees Lemons in White House Race
The only significant potential candidate on the Democratic side who has not announced his intentions (unlike Al Gore, who has repeatedly said he does not plan to run) is retired four-star Gen. Wesley Clark, the former supreme commander of NATO. So what exactly is Wes waiting for? That's what all of his supporters would like to find out. How do I know that? Because when you compare real-world polls to Democratic blogs and Internet straw polls — for example — it appears that every single one of Clark's supporters is online, is a true believer, and is starting to get twitchy.
Clark is a rare breed among potential 2008 candidates: He's not a politician, has never won an election, never held a political office, and in the 2004 primary campaign that was quite painfully obvious. Clark was essentially "drafted" to run very late in the game — some say it was the Clintons' effort to stop the Howard Dean machine, but after Dean managed to implode (with help from the all-too-happy-to-oblige media) Clark became more of a speed bump for John Kerry. The presidential campaign trail is a rough way to learn the ropes, as Clark discovered — one clear example was when he said that he probably would have voted for the Iraq War Resolution, and then the very next day reversed course, saying that he would not have voted for it.
After he essentially finished third in the primary race behind Kerry and John Edwards, Clark took a gig as an analyst for Fox News. From there, the general has offered valuable insights on geopolitical issues, including of course the ongoing debacle in Iraq, but it's doubtful how many Democrats are being won over — or are even watching that network. At this late hour, it's not clear that Clark could assemble a credible political operation and hope to compete, raise money and break out of polling purgatory. Clark is supposedly going to announce something within the next week or so. With the Big Three scooping up the political talent, the money and the media, it's looking more and more like the general is going to decide that discretion is the better part of valor and stand down for 2008.
White House hopeful Mitt Romney has spent much of his time as of late defending his increasingly obvious shift on social issues. Romney was in Washington on Saturday to genuflect before the National Review Institute, hoping the audience of conservative activists and intellectuals would buy his tale of conversion on issues such as abortion.
Mitt might have some more explaining to do. The Weekly Standard reports that in 2002 Romney answered favorably to several hot-button abortion issues in a Planned Parenthood questionnaire distributed to statewide candidates:
In the spring of 2002 Romney completed a Planned Parenthood questionnaire. Signed by Romney and dated April 9, 2002, it contained these responses:

Do you support the substance of the Supreme Court decision in Roe v. Wade? YES

Do you support state funding of abortion services through Medicaid for low-income women? YES

In 1998 the FDA approved the first packaging of emergency contraception, also known as the "morning after pill." Emergency contraception is a high dose combination of oral contraceptives that if taken within 72 hours of unprotected sex, can safely prevent a pregnancy from occurring. Do you support efforts to increase access to emergency contraception? YES

Romney also completed the questionnaire of the National Abortion Rights Action League, or NARAL (now called NARAL Pro-Choice America), with this statement:

I respect and will protect a woman's right to choose. This choice is a deeply personal one. Women should be free to choose based on their own beliefs, not mine and not the government's. The truth is no candidate in the governor's race in either party would deny women abortion rights. So let's end an argument that does not exist and stop these cynical and divisive attacks that are made only for political gain.
Romney claims that his position on abortion has been evolving, and that his opinion changed after a discussion with a stem cell researcher. Right.
Once again, the ever-evolving Romney does the flip-flop. Truly a man of the people, his opinions seem to sway with every election cycle.
Hill's evil joke on hubby Bubba
Clinton gets mixed reviews in Iowa
S.C. primary is key to presidential race
No lock on black voters for Obama in race against Clinton
Lieberman Might Back Republican in 2008
John McCain and Rudy Giuliani have been leading all of the Republican primary polls, but nobody seems to consider either one to be a conservative's conservative. From McCain's eagerness to work with people like Russ Feingold and Teddy Kennedy to Giuliani's well-known positions on issues like abortion and gun control (and disposable wives), these guys do not exactly represent the "Republican wing of the Republican Party." But they lead the polls because of name recognition and, no doubt, perceived electability.
At least, until now: http://www.msnbc.msn.com/id/16829011/site/newsweek/
You have to wonder what use the average Republican primary voter — who no doubt considers himself or herself well to the right of both McCain and Giuliani on many issues — will have for these guys if they no longer are considered good bets in a general election. If these candidates don't have the electability card to play, what do they bring to the table to appeal to the caucus-goer or voter who cares enough to actually show up in January or February 2008? The answer seems to be: Not much.
This would appear to leave the door wide open for candidates who have far better established right-wing track records. That's right, all REAL conservatives, please step forward (not so fast, Mitt Romney — getting blown away by the top three Democrats can't be impressing anyone). You get the feeling that guys like Sam Brownback, Mike Huckabee and yes, even Newt Gingrich, just love the fact that the "golden boys" are losing their luster. While McCain and Giuliani still have to be considered the front-runners, seeing them stumble can only give hope to the rest of the field.
Well it's about darn time. Surely Mike Huckabee never imagined he'd have to decide this early, but let's face it, he's been hinting at a run for two years. So tonight's news isn't really news at all.
If he can keep pace financially, he's a threat to the lead pack. If he can't, he'll be munching grass on the farm in no time. The Derby seriously doubts he'll be able to keep up with the top three. But wouldn't a former southern governor with a compelling personal story make for a great VP pick? Especially if he's there to balance a more moderate #1 on the ticket?
LITTLE ROCK, Arkansas (AP) — Republican Mike Huckabee, the former Arkansas governor and a favorite of conservatives, will take the first step in a 2008 presidential bid, an official told The Associated Press on Friday.

Huckabee, 51, plans to file papers on Monday establishing an exploratory committee that will allow him to raise money and hire campaign staff, said the official, who spoke on condition of anonymity to avoid pre-empting a formal announcement.
Please, for the love of all that is good in this blessed country of ours, take just a minute to watch this clip of Hillary singing the national anthem in Iowa this weekend. The bad news? She sounds horrific. The good news? Puberty is right around the corner.
The Washington Post has an interesting story on Hillary's first trip to Iowa.
Although Clinton appears formidable at the national level, she has not built up a lead in Iowa, home of the first caucuses of the 2008 campaign next January. Most recent polls of Iowa Democrats have shown former senator John Edwards of North Carolina in the lead, with Clinton in a pack that includes Illinois Sen. Barack Obama and former Iowa governor Tom Vilsack.
Of special interest is the following statement made by Clinton advisors regarding Hillary, one of the most well known candidates in the race.
Clinton advisers accept the polls as generally accurate and reject suggestions that she will have trouble converting skeptics into supporters. She has, they argue, only begun the process of introducing herself to Iowans, in a dinner in Washington last month and with a handful of phone calls to key activists.
A common problem among presidential candidates well known to the public is the belief they need to constantly reinvent themselves to change public opinion.  With a candidate as well known as Hillary Clinton this could be the first signs of "Clinton fatigue."
John Edwards, the filthy rich poverty advocate, loves to talk about his "Two Americas". Of late he's become essentially a two-issue candidate: Poverty and Iraq, in that order of importance.
So here's a rhetorical question for fans of the Derby. If you were ridiculously rich and earned that wealth from your career as a trial lawyer, hardly America's most popular profession, and you yearned to be president and ran a populist campaign of lifting the poor and merging your "Two Americas", wouldn't you maybe go for the 5,000 square foot home instead of the 28,200 foot version?
No one blames Edwards for the big spread. Who wouldn't want to a home so big it's actually long distance to call from the kitchen to the master bedroom? But is this the image you want on the front of the newspaper and web sites as you run for president as a man of the people?
Several of the candidates on both sides are wealthy, but none of them are right now building the largest homes in their respective counties. The good news is that if he loses he can always go home and run for mayor–of his own property.
Here's the entire story from the Carolina Journal Online. It's simply too good not to post in its entirety.
Carolina Journal Exclusives
Edwards Home County's Largest

By Don Carrington
The 28,200-square-foot home also Orange County's most valuable

RALEIGH – Presidential candidate John Edwards and his family recently moved into what county tax officials say is the most valuable home in Orange County. The house, which includes a recreational building attached to the main living quarters, also is probably the largest in the county.

The Edwards residential property will likely have the highest tax value in the county,- Orange County Tax Assessor John Smith told Carolina Journal. He estimated that the tax value will exceed $6 million when the facility is completed.

The rambling structure sits in the middle of a 102-acre estate on Old Greensboro Road west of Chapel Hill. The heavily wooded site and winding driveway ensure that the home is not visible from the road. "No Trespassing" signs discourage passersby from venturing past the gate.

Don Knight, Orange County building plans examiner, told CJ that, including the recreational building, the Edwardses' home would be one of the largest in Orange County.

Knight approved the building plans that showed the Edwards home totaling 28,200 square feet of connected space. The main house is 10,400 square feet and has two garages. The recreation building, a red, barn-like building containing 15,600 square feet, is connected to the house by a closed-in and roofed structure of varying widths and elevations that totals 2,200 square feet.

The main house is all on one level except for a 600-square-foot bedroom and bath area above the guest garage.

The recreation building contains a basketball court, a squash court, two stages, a bedroom, kitchen, bathrooms, swimming pool, a four-story tower, and a room designated "John's Lounge."

Edwards was the Democratic candidate for vice president in 2004 and a former N.C. senator.

Thursday afternoon, the Edwards for President press office was unable to provide information on any additional buildings planned for the estate.
WaPo's latest 2008 rankings are out. (They call theirs The Line.) They are mostly in agreement with our own rankings. Though their version does sound a little a little less sophomoric. (Which, of course, makes ours like totally cooler.)
Jim's name was randomly drawn this afternoon as our weekly prize winner. He's won a copy of the Best Worst Movie of all time, Troll II. Just how excited was he? Check out his reaction upon learning of his good fortune:
WoW!!!! The best worst film ever!!!!! Can't wait to get it. Thanks Political Derby. -JB
Now that's the kind of sincerity we admire around these parts.
If you're not familiar with the great stench that is Troll II, take a moment to watch this brilliant parody trailer. It will change the way you view your family, your enemies, and the sanity of the filmmakers.
And if you're not registered for our forums, then you're not eligible to win these fantastic prizes. So get on it, would ya?
Interesting discussion on this morning's Fox & Friends. (Edwards, Kerry, Kucinich and the rise of "Apple Geeks") Enjoy!
Barack Obama wasn't in the empty Senate chamber on Wednesday to watch Senator Kerry bow out of the 2008 presidential race, but perhaps he should've been. Had he been there, the senator from Illinois might have learned a valuable lesson.
John Kerry certainly can't be accused of being an inspiring candidate, and much of the campaign he built in 2004 revolved around an Anybody But Bush sentiment. However, Kerry's time in the Senate left him open to a litany of attacks, some valid, and some not so valid. The Bush campaign successfully pegged the senator as the most liberal member of the Senate, and often accused Kerry of voting against vital weaponry for our military.
Many of these accusations were ultimately proven to be exaggerated and false , but that's neither here nor there. Kerry lost, and his twenty years of experience unfortunately played a role in it.
This is why Senator Obama should take heed, learn from his colleague, and run now for President of the United States. Political stars can burn out rather quickly, and candidates often run too early or too late. But when Republicans say Obama lacks experience, what they really mean is that he lacks conservatism (I see none of them rushing to embrace the record of a Governor Richardson or a General Clark). Of the latter he is certainly guilty, as was the American public this last November.
The brand of so-called experience these critics demand is the same kind that landed us in an unpopular war abroad, hampered our economy with record deficits and shamed our nation's capital with ethics scandals.
Americans rejected this kind of experience in November, and they seem poised to do it again in 2008. Perhaps a community organizer from a broken home reflects more about us and our experiences than the wonks and the pundits will ever know. If Obama wants to run, now is the time to do it.
The race was really shaken up today with the revelation that Elizabeth Taylor has chosen to back Hillary Clinton for president. Swing voters everywhere can finally make their decision.
What's more surprising? The fact that Hillary gives a flying rat's rear end, or that the story has been picked up in hundreds of newspapers and on television news broadcasts from coast-to-coast?
Yes, yes, we know Kerry dropped out and we still have him ranked at #9. But you can quit sending the hate mail and homemade pipe bombs. We will have the rankings updated shortly…
While it's still nearly a year until the Iowa Caucus, one primary already is well under way: The money primary. Candidates are lining up donors and raising money as fast as they can get their grubby little hands on it. No question about it, this will be the most expensive election in history, with the real possibility of $1 billion or more being spent. Notice that Hillary Clinton wasted no time in stating that she would reject the federal matching money — and the limitations that come with it — for both the primary and general election. That was intended to send a clear message: You have to pay if you want to play, and this race is for the high rollers only.
In the past, early poll numbers could be turned around, and long shots could come out of nowhere — or even Arkansas — to claim the brass ring. But that was a different era, when the primary schedules were stretched out over months and face-to-face retail politics played a bigger role for a longer amount of time. Now, with more and more states looking to move their primary dates up, it's very likely that both parties' nominees will be decided after just a few weeks. It looks like the earliest states will narrow each field down to two or three finalists, and then it will be an all-out media blitz across the country. In order to be one of those finalists, a candidate has to prove his or her viability with cold, hard cash.
The $100 million figure has been tossed around as the entry fee for the serious contenders. While that might be on the high side, it demonstrates the problem facing many of the candidates in the second tiers and lower: If they can't convince donors right now that they have a strong chance of ultimately winning, it makes it that much more difficult to generate the kind of money needed to be considered viable. So this can become a self-fulfilling prophecy. When you look beyond the top two or three candidates on each side, the numbers they need to worry about now aren't just their poll numbers but, directly related to that, their account balances.
The Derby has arrived! Check out this clever cartoon from the team at AppleGeeks.com.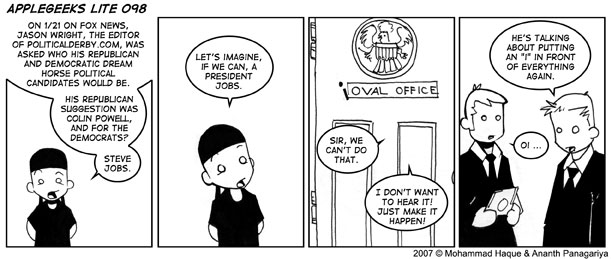 It's one thing to have a regular gig on Fox, it's quite another to be cartoonized. Thanks, AppleGeeks, nice work!
Nobody does it like WaPo's The Fix editor, Chris Cillizza. Take the time to read through his latest post. It digs into his paper's recent poll and finds some fascinating numbers. Hillary, for example, is crushing Obama among blacks right now. Of course it's awfully early, but that must bring Obama pause. If he's not viewed as being "black enough" – as columnist Stanley Crouch has already suggested, Obama could be in real trouble.